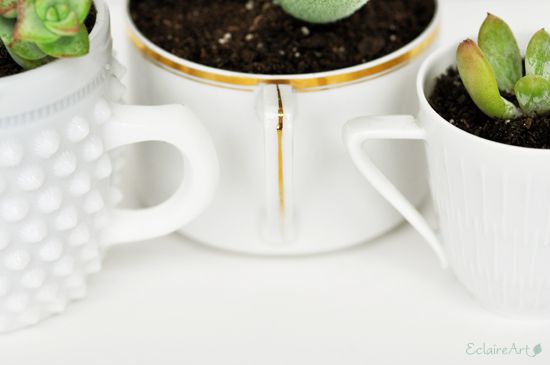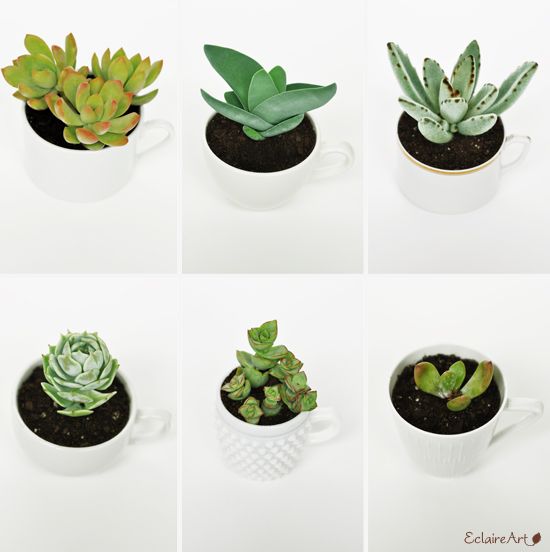 This idea just popped into my head one day and I was determined to execute it!
The beauty of this arrangement is that the entire tray can be easily transported. This means you can let the succulents soak up some sun when they need it and then bring them back indoors to enjoy a little bit of nature in your home.
It is no secret that I am a huge fan of succulents since they have shown up in many of my posts (for example, here, here and here). These adorable plants just make me happy!
This cheap and cheerful project is easy to put together.

I found the teacups at a few thrift stores. My only criteria was that they all be white. Teacups generally range from 25 cents to $1 at thrift stores and they are quite common. I also found the tray at the thrift store for $3.
You can purchase succulents at most garden centers or places like Home Depot/Lowe's. They are usually inexpensive and there are such a variety of these little guys.
Notes about planting & caring for succulents:
Succulents are pretty hardy plants that only need watering once every two weeks in the winter and once every week in the summer. It is important that they get a lot of light! When planting them, I always put a few packaging peanuts at the bottom so that the water can drain a little and the roots won't get too wet. I also mix normal potting soil with sand because it is essential that these plants drain well. Since some of these teacups are very small, I actually use something like this (the tool inelegantly called a "snot sucker" used on infants... you get the gist) to water them. Otherwise, a regular watering can would splash the dirt everywhere.
You will need to allow your succulents enough room to grow. Looking at the last photo I posted, the upper left one had too many succulents for that one teacup. I ended up taking out two of them to allow space for growth.
Enjoy your succulents!