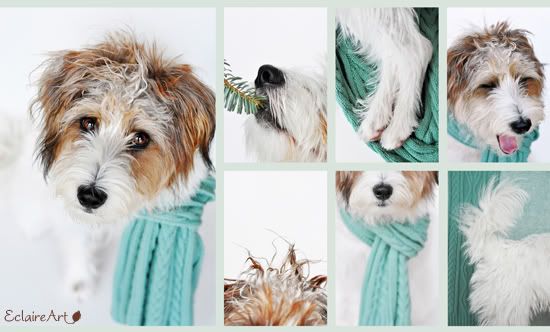 Hello!
My name is Yui.
It rhymes with "chewy" and it is a Japanese name.
I am

a
very naughty
well behaved dog that loves life! I can't believe I got my own page.
I think my Mama is obsessed with me...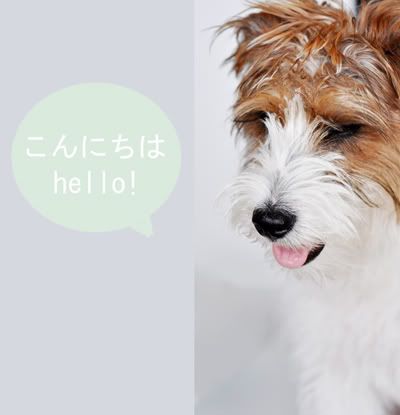 What am I?
Your guess is as good as mine, but my parents think I am a jack russell terrier/wire fox terrier/west highland terrier mix. Mama says whatever I am, I'm a good one.
Likes:
- Hiding "presents" in my parents' bed.
- Barging in on Mama's photo shoots. I am very curious and I love being photographed!
- Porch time. I demand it. I chew on my bone while Mama reads.
- Getting spoiled by Grandma and Grandpa.
-
Being chased. My parents are too slow, so I think it's funny.
Dislikes:
- Baths! I make my parents feel like they are torturing me.
They don't seem to get the picture.
- Daddy's ukulele. It's evil and it makes noises.
- Rain, puddles, squirt guns. Again... I don't do water, people.
My Past: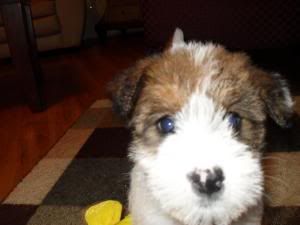 After Mama and Daddy saw this photo of me online, they knew I was the one.
My original owner surrendered me to a daily kill shelter in Tennessee along with my canine mommy and two sisters. A rescue then took us to a shelter in Asheville, North Carolina. Mama and Daddy saw my photo online and decided I was the one for them. They drove an eight hour round trip to get me even though they had no clue what my personality would be like. I am glad they took that chance.
I hope you consider rescuing a dog because I am very happy living with my parents forever and I know I am loved.
Here are some videos of me when I was a baby:
Past Blog Posts Featuring Me:
*
Meet Yui:
My debut post!
*
An Update on Yui:
Mama shares what a pain puppyhood can be, but this has a happy ending.
*
Back for Good!:
I'm ready for my close-up!
*
Lavender Picnic with a Furry Guest:
My first "official" photo shoot.
*
Happy Birthday to my Husband!:
I got to stare at an eclair for this photo. It was hard work.
*
Studies in White:
I played in the sheets while Mama took photos of me.
* The Best Way to Cook an Artichoke:
What do I have to do with an artichoke?
* Sweet & Spicy Pecans with Salty Dogs
Try these "salty dog" drinks I posed with!
* ...and then there were NONE!
See me snuggling with a kitten.
* Um, Excuse Me!
Proof that I get in the way of my Mama's photo shoots...
* Christmas Decor on a Budget
Check out my Christmas stocking!
* Merry Christmas to You from Yui!
My parents' Christmas card this year.
* Christmas Recap! Yui's 1st Christmas
Here I am sporting my new holiday jammies! I have no shame.
* Happy Birthday, Yui!
I turn one year old!